---
Tunga
Microstomus kitt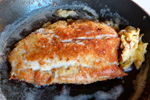 ---
Nátaungi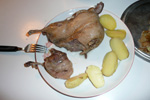 Nátaungi / Young fulmar
---
Fesk grind
Globicephalus melaena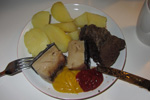 ---
Grindabúffur
Globicephalus melaena
---
Øða
Modiolus modiolus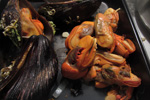 ---
Toskarhøvd
Gadus morhua
---
Seyðarhøvd
Ovis aries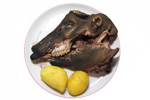 ---
Røst riv
Ovis aries
---
Rognaknetti Gadus morhua eggs
---
Jákupsskel
Aequipecten opercularis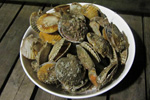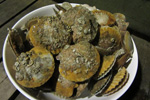 Kammusling / Scallop
---
Hýsa Melanogrammus seglefinus
Kuller / Haddock
---
Marcipankøkur
Marcipankøkur / Marcipan cakes
---
Súla
Morus bassana
Súla, klár at fylla / Gannet, ready to be filled
---
Blóðmørur
Blóðmørur / Black pudding
---
Marcipanrulla
Snerktar mandlir, ein løggur av cognac, pistacie, marcipan (reint og uttan nakað eyka sukur tilsett), góð myrk chokolada og at enda val- ella hassilnøtur
/ Toasted chopped almonds, a good splash of cognac, pistachio, pure marzipan (no extra sugar added), a good dark chocolate and finally walnuts or hazelnuts.
---
Ræstur kongafiskur Sebastes sp.
Nærum ræstur og klárur at koyra í pottin / Sebastes sp. drying in the fresh Faroese air
---
Góðaráð
Góðaráð / Gode råd / Good advices
---
Fyltur sperðil
Fyltur sperðil / Intestines filled with heart, kidney & liver - everything from lamb
---
Rabarbusúltutoy
Rabarbusúltutoy / Rhubarb jam
---
Garnatálg
Garnatálg, góð aftur við røstum fiski / Dried sheepgut, very good with fish
---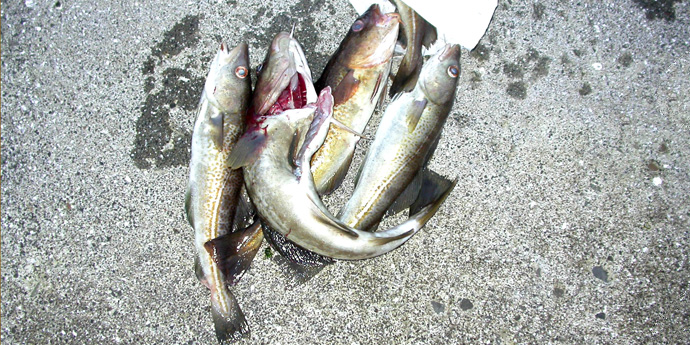 So er døgurðin fiskaður / Dinner is almost ready!
Copyright ęJens-Kjeld Jensen
All Rights Reserved